Information Systems Department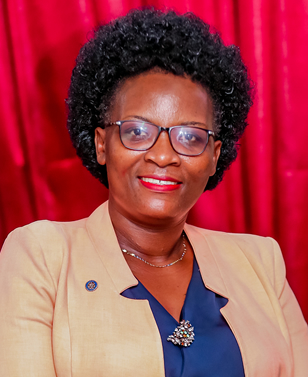 Monica Rose Nyakaisiki
Deputy Director IS
The IS department reports to the Deputy Executive Director in ED's Office. It is responsible for Planning the development, implementation, maintenance and support of all IS solutions and infrastructure in KCCA.
KCCA's ICT strategy since 2014 is built on 3 objectives that is Improved Institutional Efficiency, Improved Business Support and Improved Communication. These objectives are briefly broken down as follows;
Improved Institutional Efficiency
Provision of work supporting equipment such as computers, Printers, Mobile gadgets
Facilitation of the Local and Wide Area Network and Internet services in all offices
Formulating IT standards in accordance to national standards
Provision of ICT support
Reduce Cost of doing Business in operations
Improved Business Support
Improve Revenue Collection through Automation
Re-engineer all processes in all the Directorates
Provide Software solutions to all directorates e.g. Human Resource Management solutions, Health Management Solutions, Accounting solutions, e-Waste Management, e-Learning, Gender applications, Education Management solutions, -Traffic Control solutions
Enhance ICT Innovation within the city
Enhance city safety through surveillance
Improved communication
Enhance Internal communication tools e.g. Intranet, email, unified messaging, client processes
Enhance development of external communication through the interactive web portal, social media and Call Center
Provide Mobile Value added services e.g. SMS, Interactive Voice Response, Mobile Apps
The Mandate of the Department to build a Smart Kampala City in a phased approach as shown below

Smart Payment –­Deploying a modern centralized Web Enabled Management Information System, with the functionality of all revenue source registration, billing, Assessment rates, contracts management, revenue accounting and reporting, document management and payments and collection management. This is now implemented on the (https://ecitie.kcca.go.ug) with the capability of integrating with mobile payments such as Airtel money, MTN Mobile money, Point of Sale Terminals like Ezee money, Payway and online banking through all collection Banks. KCCA is now working on enhancing the system to integrate with the Computer Aided Mass Valuation using the Geographic Information System.
Smart Planning – The "Smart Permit" project has commenced with the objective of delivering a more consistent yet standardized infrastructural planning and development of the metropolitan areas. This will be attained through the use of ICT and GIS enabled tools to cater for spatial related challenges in the city.
Smart Education – This entails at achievement of educational experience in both business and peri-urban areas. E-education solutions (remote learning and collaboration) to have citizens better informed.
Smart Transportation – More efficient and intelligent road infrastructural development and transportation systems; leveraging networks for efficient movement and monitoring of vehicles, people and goods to reduce congestion. The employment of technology based approach through the utilization of cable cars and lite rail as marginal to reduce cramming in the CBD and all access routes.
Smart Communities and Social Services – Access to high-quality healthcare services (including e-health or remote healthcare monitoring), electronic health records management. Getting a new generation of citizens involved in the city issues and increasing employment base for youth. Using of innovative ICT challenges to identify city dares and devise a plan to enhance city sustainable development.
To contact ICT please call 0204660041 or mail info@kcca.go.ug