Religious Leaders Pledge to Rally Followers to Support KCCA Programs
PUBLISHED — 27-Jul-2017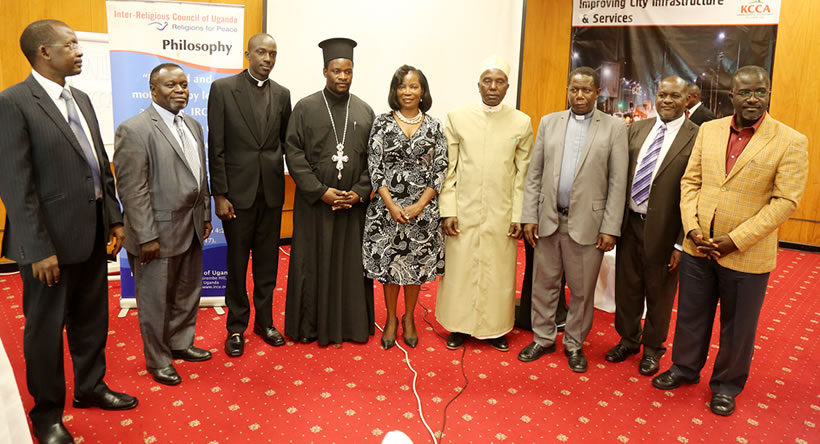 Some residents of Kampala are lately not following city regulations while others are neglecting individual, house hold and communal obligations. It is for these reasons, that Kampala Capital City Authority (KCCA) in partnership with the Inter-Religious Council of Uganda (IRCU) has started a campaign to sensitize residents on practical ways of making their home, community and City a better place.
Today, religious leaders under IRCU met with the management of KCCA to firstly, share what KCCA has done in making Kampala a better place, since its inception in 2011. Secondly, religious leaders provided firsthand feedback to KCCA of its services to their Followers, the residents of Kampala. The meeting took place in Kampala and attracted religious leaders of different faith that constitute IRCU.
The Inter-Religious Council of Uganda, is an indigenous, national faith-based organization uniting efforts of religious institutions to jointly address issues of common concern. IRCU is constituted by; the Roman Catholic Church, the Church of Uganda, the Uganda Orthodox Church, the Uganda Muslim Supreme Council, the Seventh-day Adventist Uganda Union, the Born Again Faith in Uganda, and the National Alliance of Pentecostal and Evangelical Churches in Uganda. Similarly, IRCU works with other religious organizations, namely the Spiritual Assembly of the Baha'i, the Methodist and Lutheran Churches.
Religion plays a significant role in influencing and shaping norms and values. Religious Leaders can cause their congregations and followers to adopt positive and healthy behavior to bring about change of attitude among residents of Kampala.
Jennifer Musisi, the Executive Director of KCCA said, "We at KCCA strongly believe in our religious leaders and their ability to bringing about positive and lasting impact in development in this city." She said, "We believe that this change in attitude will enable us to better serve residents of Kampala with good roads, street lighting, proper drainage, efficient garbage collection and disposal, schools and health facilities, and other social services."
The Executive Director calls upon all religious leaders to include in their sermons and religious gatherings messages to urge residents to adhere to road regulations; honor their obligations such as payment of tax; keep the city clean; protect the environment, wetlands, drainages and grass lawns; work and earn a living; read, learn and acquiring new knowledgeable; Support the vulnerable and disadvantaged; to mention a few.
Meanwhile, the Inter-Religious Council of Uganda, is fully in the forefront and ready to use its robust structures to reach followers to promote adherence to regulations and promote a culture of protecting and harnessing resources, public property and the environment. Charles Serwanja, the Acting Secretary General, IRCU said, " We are a national faith-based organization uniting the efforts of religious leaders, and our strength lies in our ability to jointly address issues of common concern as religious institutions in Uganda."
IRCU is constituted by seven key religious bodies who all have a stake in the welfare of residents of Kampala and its divisions. These leaders are committed to fully exploit the potential of their leadership structures, infrastructure, institutions, Radios and Televisions, and personnel, to persuade followers to adopt positive and healthy behavior in their homes, community and city.
KCCA is one of the most recognized, trusted and valued brands in the country and abroad, the Executive Director mentioned. KCCA has attracted local and international development partners and financiers such as the World Bank, Bill & Melinda Gates Foundation and the European Union including a number of local development partners.
In conclusion, KCCA management assures religious leaders of its determination to remain a credible, service oriented and accountable institution as it serves residents of Kampala. "Our ultimate goal is to extend quality services to every person, home, and community. We pledge to listen to you on ways we can better serve you. I applaud the support and willingness of our spiritual leaders to engage their clergy as agents of change for a better Kampala," said Jennifer Musisi.