KCCA DEPUTY ED IN SWEDEN FOR WORLD WATER CONFERENCE
PUBLISHED — 30th, August 2022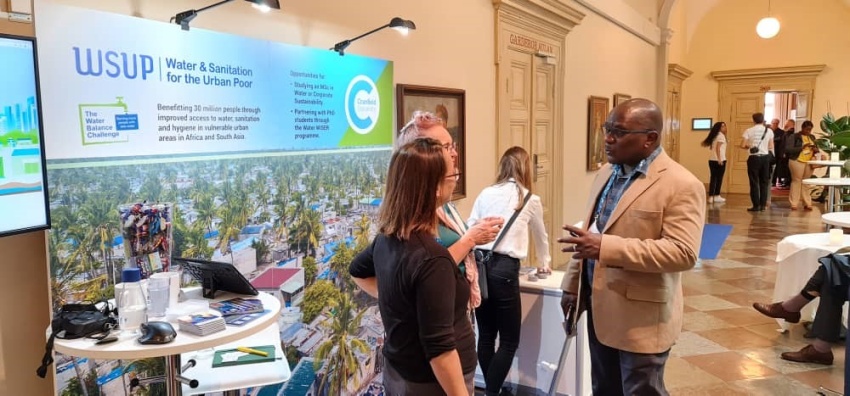 The Kampala Capital City Authority (KCCA) Deputy Executive Director Eng. David Luyimbazi, has joined world experts, innovators, entrepreneurs and professionals from various sectors in Sweden to discuss solutions for water related challenges.
Luyimbazi together with Dr. Daniel Okello the Director Public Health and Environment, Mr. Allan Nkurunziza the Project Manager, Citywide Inclusive Sanitation (CIWIS) and Ms. Julian Musiime the Coordinator CIWIS are attending the World Water Week 2022 – taking place in Stockholm, Sweden.
World Water Week is running from 23 August to 1 September – features many discussions, both online and in person, is being held under the theme: "Seeing the Unseen: The Value of Water".
The primary aim of the Conference is to raise awareness of the global water crisis and decide on a concerted action to achieve the internationally agreed water-related goals and targets, including those contained in the 2030 Agenda for Sustainable Development.
World Water Week is the place to explore new ways of managing water and tackle humanity's greatest challenges: from food security and health to agriculture, technology, biodiversity, and climate.
Attending the forum will provide the KCCA delegation, with an opportunity to learn about the various WASH implementation and financing innovations in the sector that may be applicable to Kampala.
It is also an opportunity for the City leaders to share progress on Kampala's progress towards the Sustainable Development Goals (SDGs).
On the sidelines of the conference, KCCA will hold bilateral discussions with Development partners to explore new and strengthen existing development cooperation and collaboration initiatives
It will also be an opportunity to increase the network of partners and professionals with whom KCCA can pursue the strategic development goals of the City.
Kampala City is undergoing rapid urbanization and population increase. Unfortunately, this demographic and development shift has critical implications to achieving city, national, continental and global targets for inclusive growth and transformation.
With the support of development partners, civil society and private sector, KCCA has established key fundamental building blocks, systems, resources and operational frameworks to accelerate progress towards the SDGs.
KCCA, NWSC and their partners have made great strides towards improving the water, health, waste management and sanitation situation in Kampala.
Despite these advances, access to safe water and sanitation services stands at 78% and 39% respectively.
There's a need therefore, for KCCA and its stakeholders to accelerate equitable and universal access to WASH services in line with the commitments under SDG 6, Vision 2040, NDP III, the KCCA strategy 2020- 2025, and the City-Wide Inclusive Sanitation Improvement and Financing Strategy for Kampala (CWISIFS) 2020.
World Water Week, organized each year by the Stockholm International Water Institute (SIWI), brings together experts, professionals, innovators and entrepreneurs from various sectors and countries with the aim of developing solutions for water-related challenges.
Other Ugandan experts attending the conference are Dr Callist Tindimugaya: Commissioner, Minister of Water and Environment, and Dr. Rose Kaggwa: Business Development Director, National Water and Sewerage Corporation.
END