Message from the Executive Director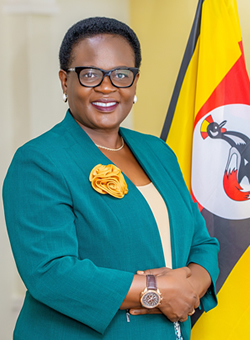 Welcome to our Website. It is over seven years since KCCA took over the management of the City on behalf of Central Government. A lot has happened in line with service delivery that has impacted a lot on the citizens who work and stay in Kampala. Roads are being constructed, revenue mobilization is improving, beautification of the city is on-going and garbage collection has greatly improved.

Partnerships and compliance are some critical areas that have grown in leaps and bounds in the past two years. We have embraced a number of corporate partnerships contributing immensely to the changing face of the city. We would like to salute all corporate entities that have supported KCCA in various ways. Companies like Airtel, MTN, Orange Uganda, Indian Association, Roofings Group, Rwenzori Bottling Company Limited, East African Breweries ltd/ Uganda Breweries LTD, Ruparelia Group of Companies especially Crane Bank, Mukwano Group of Companies, Centenary Bank, Housing Finance Bank, Stirling Construction Company Limited, Rotary Club of Kampala,UBA Bank, KCB Bank, Roke Telecom, NSSF, Watoto Church Uganda Pest Control and many more we would like to say THANK YOU. These corporate partnerships have been able to cover many areas where there are gaps. This is a big indicator of public confidence in the city administration which had for a long time eluded the city managers.

Compliance levels are steadily picking. Revenue mobilization is improving, development applications are now evaluated on a weekly basis and we shall adhere to building regulations to bring order to this sector.
There is a renewed sense of responsibility and love for the city. As we start the third year of our operations, we want to go beyond providing the basics to our people in the city. We are counting on the public that the spirit of partnership multiplies in many Kampala residents' hearts to move our city to another level.

Jennifer Semakula Musisi Ph.D (h.c)
Executive Director KCCA
Together we will Transform Kampala to a better City