Personal Profile
Mrs. Jennifer Semakula Musisi Ph.D (h.c)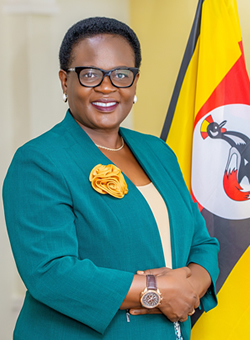 Jennifer Semakula-Musisi is a lawyer, advocate of the High Court of Uganda and seasoned administrator with a strong legal, administrative and leadership background. She trained at Makerere University, Kampala, Uganda as well as numerous other institutions including The George Washington University, Harvard Business School and Harvard Law School.
Jennifer earlier worked for Makerere University as a Legal Adviser and was then appointed Commissioner Legal Services, and subsequently Commissioner Legal Services and Board Affairs in Uganda Revenue Authority. Jennifer has strong leadership and management skills and a vast experience in the public and private sector. Jennifer was at the forefront of the Institutional Reforms and Restructuring Programme at URA that have made it a benchmark National Revenue Administration in Africa and beyond. She played a key role in identifying personnel and building their leadership capacity. Many of these have now taken up key leadership positions in Uganda and beyond.
In URA, Jennifer was involved in Policy formulation, legislating amendments and policy implementation at the Executive and Board levels as well as Financial Planning and Management. Her role as Commissioner Legal Services and Board Affairs involved working closely with the Commissioner General and the Senior Management Team, the Board of Directors and various stakeholders including Government Ministries, Tax Appeals Tribunal and personnel at the Uganda Judicial System.
Jennifer also worked with senior managers from the various countries forming the East African Community. This exposed her to the cross cultural leadership dynamics.
Whilst working with Uganda Revenue Authority Jennifer worked to transform and build the URA Legal Firm into a highly successful and professional Department that has successfully defended URA both at national and international levels. She was also involved in enhancing taxpayer compliance and proposing revenue related policies and practices.
In 2011, Jennifer was appointed by H.E. the President of the Republic of Uganda as the first Executive Director of the Kampala Capital City Authority and has been at the head of the transformation of the City Administration from a Local Government to a Corporate Entity under the Central Government.
Significant achievements have been made by Kampala Capital City Authority over the last four years. These include:
Restructuring and transforming the administration of Kampala City
Enforcing Trade Order and enhancing law compliance
Recovery of City funds and real property
Improving Solid Waste Management by over 300%
Growing the revenue collection by over 165.23%
City road network has been significantly upgraded and the City drainage and street lighting systems have been significantly improved
Under KCCA staff integrity, professionalism and accountability are paramount
Restoring institutional credibility in the City Administration, leading to strong partnerships with the private sector and Development Partners
Restoring the social and environmental attractiveness of the City, greening and beautification as well as introducing the Kampala City Festival an annual social event bringing together the rich mix of cultures and corporate entities found in Kampala in an annual street celebration drawing millions of participants
Transforming service delivery by the City administration including big strides in health service and improving the public schools
Improving household incomes through empowerment, capacity building and various funding programmes for low income households, youth and women.
Jennifer is a member of the Uganda Law Society and a recipient of numerous awards in recognition of her work;
Inspirational Woman of Uganda Award for Exemplary Leadership 2013,
Kings College Budo Medal of Achievement Award
Paul Harris Awards 2013 and 2014 from The Rotary Foundation of Rotary International in appreciation of tangible and significant assistance given for the furtherance of better understanding and friendly relations among peoples of the world
Certificate of appreciation for partnership and courtesies extended to the Rotary Club of Kampala East
Golden award 2013 for Distinguished Service rendered to Kampala Capital City by Kamwokya Primary School,
Airtel Woman of Substance Award 2013 for Outstanding Contribution to Uganda's Public Service
Certificate of Appreciation for Inspirational Work from Inspirational Development Uganda,
Vocational Award 2012/13 for Dedicated and Selfless Service towards the Restoration of the Pride of the City of Kampala from the Rotary Club of Sunrise Kampala,
Performance Achievement Award in appreciation of selfless service in restoration of Kampala City from Rotary Club of Bugolobi,
Certificate of Appreciation for Ensuring Civil and Social Rights for the People of Kampala City from Civil & Social Rights Awareness (U)
Nsangi Medal 2013 for Excellent Services to the People of Uganda
Certificate of Distinguished Services as Executive Director of Kampala Capital City Authority 2013 from Bwanika Zone L.C.1 Kampala
Philadelphia City Award presented by the Mayor of Philadelphia Michael A Nutter August/ Sept 2 2012.
ESQR's Best Quality Leadership Award 2014
Global Salutation Award for Dedication and Exemplary Service for the Citizens and Residents of Uganda
World Savers Excellence Award – Woman of the Year 2014
Recognition as the Biblical Deborah of our time for braving the storms and excelling in turning around the face of the City from the Leadership of The National Fellowship of Born Again Pentecostal Churches – 2014
Selected as one of the 100 Exceptional Leaders in The Commonwealth 2014-15
Country Winner ( Agencies and Regulatory Authorities Sector) CEO Global's Africa's Most Influential Women in Business and Government Awards; 2015/16
Regional Winner (Agencies and Regulatory Authorities Sector) CEO Global's Africa's Most Influential Women in Business and Government Award 2015/16
Winner of the Socrates Award - Rome Italy 2015; International Aristotle Committee