ELEVEN CITY HEALTH FACILITIES ACCREDITED AS BABY FRIENDLY
PUBLISHED — 7th, September 2023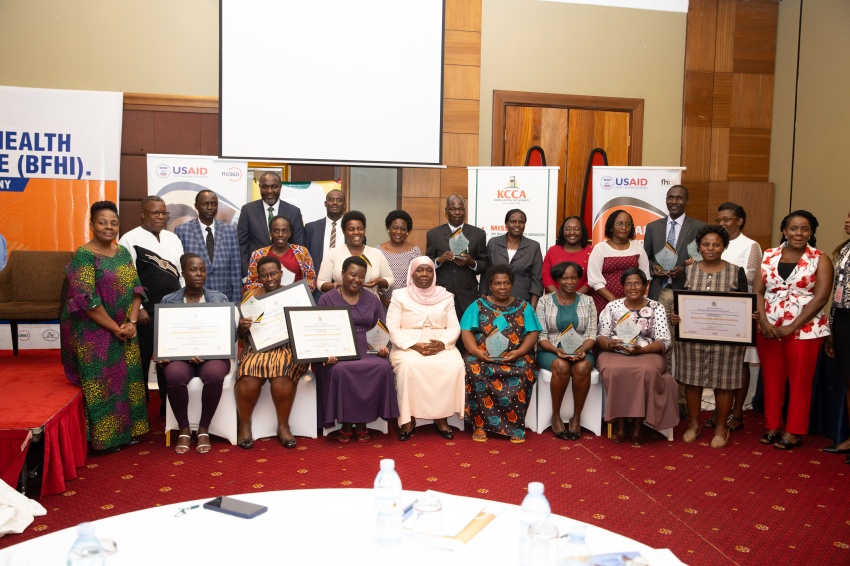 Eleven health facilities in Kampala have been awarded Baby Friendly Status during the Baby Friendly Health Facility Initiative (BFHI) accreditation ceremony held at the Sheraton Hotel on Wednesday.
The ceremony, organized by fhi360 in partnership with USAID, the Kampala Capital City Authority (KCCA), the Ministry of Health and other stakeholders, marks a significant step towards promoting and facilitating breastfeeding practices and other maternal and childcare services in healthcare facilities.
The health facilities that have achieved Baby Friendly Status in Kampala include five KCCA health facilities; Komamboga HC IV, Kiswa HC II, Kisenyi HC IV, Kisugu HC III and Kitebi HC III.
Others are Lubaga Hospital, Kiganda Maternity Centre, Nakasero Hospital, St Stephen's Hospital, Kawempe NRH, Mulago Specialized Women and Neonatal Hospital,
The ceremony was witnessed by Hon. Hajjat Minsa Kabanda, the Minister for Kampala Capital City and Metropolitan Affairs, who emphasized the importance of addressing child-related issues.
Kabanda underscored the government's commitment to safeguarding breastfeeding practices, not only within healthcare facilities but also in various workplaces.
The BFHI is a crucial component of the Mother, Infant and Young Child Nutrition (MIYCAN) strategy, advocating for healthcare facilities to actively endorse and support breastfeeding practices.
The long-term objective is to institutionalize this initiative across all healthcare facilities providing antenatal, maternity and postnatal services in the country.
Dorothy Kisaka, the Executive Director of KCCA, in her speech read by the Director Public Health and Environment Dr. Daniel Okello, highlighted the alignment of the BFHI initiative with the city's smart agenda pillar focusing on people's well-being, particularly the future generation - children.
Dr. Samalie Namusoke, the Assistant Commissioner of the Nutrition Division at the Ministry of Health, highlighted the initiative's goal to improve infant survival rates and overall public health by encouraging breastfeeding within the first hour of birth and continuing for six months.
She emphasized the importance of breastfeeding and the need to support mothers in maintaining this practice.
The BFHI initiative aims to save 1.5 million lives annually through exclusive breastfeeding and calls on everyone to contribute to child feeding efforts.
Namusoke says the government has set a target of having 50 percent of health facilities providing maternal and newborn services accredited as baby-friendly by 2025.
The journey towards achieving Baby Friendly Status in Kampala began in August 2020 with a baseline assessment of 29 health facilities, none of which initially met the criteria. Subsequent onsite capacity strengthening, training of health workers and mentorship efforts led to remarkable progress.
In 2023, 16 health facilities underwent external assessment, with 11 successfully meeting the requirements for the Baby Friendly Status.
This accomplishment signifies a significant stride towards enhancing the health and well-being of infants and mothers in the capital city and stands as a testament to the dedication and collaboration of various stakeholders in promoting breastfeeding practices and ensuring the survival and thriving of Kampala's youngest citizens.​