Kampala Capital City Authority donates 10m Ugx to CURE Childrens Hospital Uganda
PUBLISHED — 18th, October 2021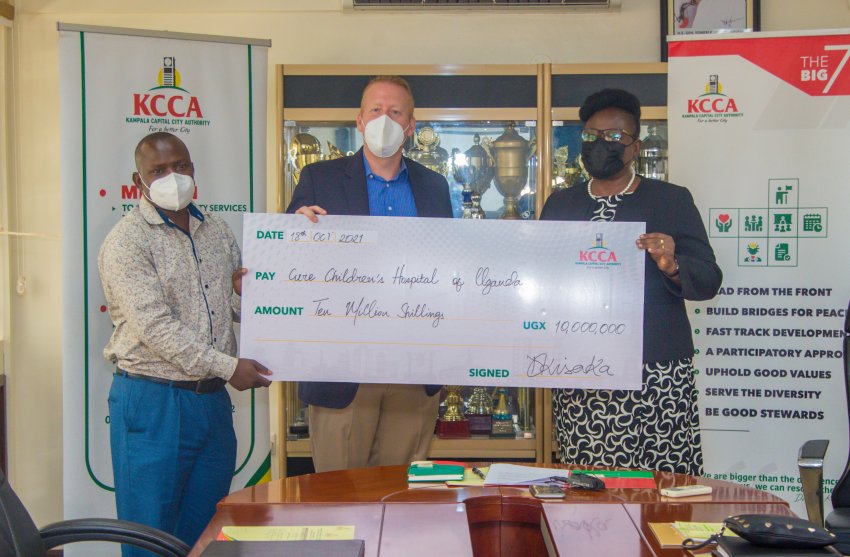 The Executive Director Ms Dorothy Kisaka has this morning handed over a 10m cheque to CURE Uganda, a Private-Not-For-Profit Christian hospital based in Mbale as contribution to the annual CURE brain surgery run 2021.
CURE Children's Hospital specializes in pediatric neuro-surgery and integrated spiritual ministry. The hospital started operations in January 2001 to provide treatment for vulnerable children suffering from neurological conditions.
In a bid to support CURE Uganda's efforts in saving lives, we have today come on board as platinum sponsors in this year's virtual CURE Brain Surgery Run 2021 to be launched on October 23rd at the hospital premises.
The run is geared towards raising funds to support vulnerable patients with conditions such as Hydrocephalus (accumulated water in the brain), Spina Bifida, Brain Tumors, Epilepsy, Skull fractures among others.
Its key objectives are to increase awareness about Hydrocephalus, Spina Bifida and other Neurological conditions treated at CURE Uganda at the hospital and to raise funds UGX 1,100,000,000 to support life-saving neurosurgery for 200 pediatric patients at the facility.
Surgeries for pediatric neuro patients at CURE Uganda are fully sponsored by generous partners, individual donors, and through annual fundraising efforts like our Brain Surgery Run so that every vulnerable child in need of neurosurgery will have access to life-saving surgery.
With this background, Kampala Capital City Authority decided to join hands and support this noble cause and to create a collaborative partnership that seeks to care for some of the country's most vulnerable children.
For A Better City