KCCA INDUCTS LOCAL COUNCIL COURT MEMBERS AT DIVISION LEVEL
PUBLISHED — 26th, September 2023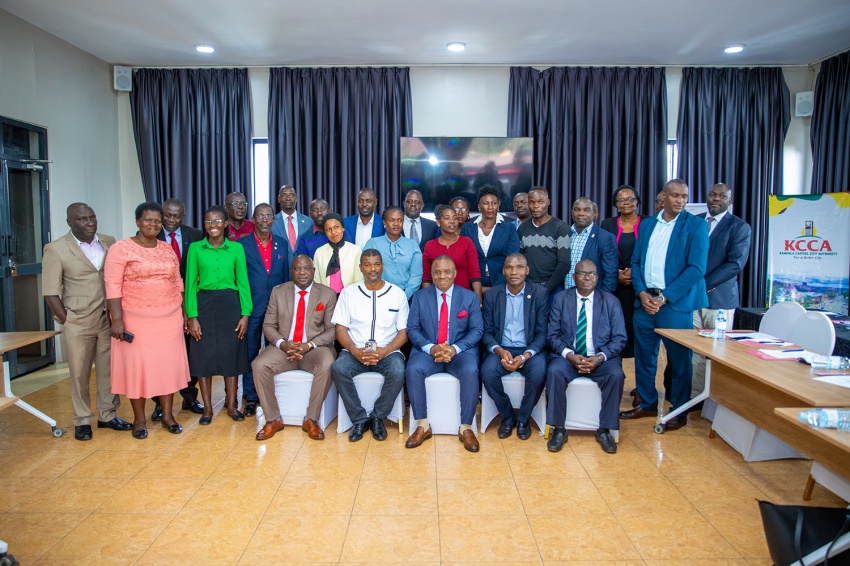 Kampala Capital City Authority (KCCA) has committed to strengthening the justice system at the local level in Kampala by inducting 25 local council court members from the city's five divisions. This initiative aims to enhance access to justice for all residents in the city.
The court members were inducted during a swearing-in ceremony that took place at Fairway Hotel and that was presided over by Chief Magistrate Rehema Nassozi on Tuesday.
Local council courts, established under the Local Council Courts Act of 2006, serve as the pillars of justice in the community. According to the law, each of Kampala's five divisions (Kawempe, Nakawa, Lubaga, Central, and Makindye) is to have five members on its local council court, with an emphasis on gender balance.
The Lord Mayor of Kampala, Erias Lukwago, witnessed the induction ceremony and delivered a passionate address during the event.
Lukwago emphasized the importance of legal knowledge for the newly sworn-in court members, stressing that they needed to educate themselves on the available laws in Uganda.
"You must be well grounded in matters of law. Much as you are not lawyers, there is no way you are going to administer justice if you are not law-knowledgeable," the Lord Mayor remarked.
He further encouraged the court members to familiarize themselves with the principles of equity, as these would serve as guiding tools in their roles. Lukwago highlighted that the key remedies in their jurisdiction were anchored in equity and principles of justice.
The Mayor of Kampala Central Division, Uhuru Salim, expressed optimism about the impact of these local council courts on delivering justice at the community level. He recognized the significance of decentralizing justice administration, bringing it closer to the people.
The newly appointed members include, Yowana Maria Lukanga, Fatuma Nabatanzi, Sulaiman Mubarak Kaloddo and Richard Kasumba from Kawempe Division.
Fred Kiwanuka, John Bosco Mwebe, Ismail Damba, Rebecca Mutumba and Allen Nakiku from Lubaga division.
Asuman Ntale, Deogratious Kijjambu, Mustafa Katumba, Winfred Nakirumira and Rose Semujju from Makindye division.
Allen Najjuma, Sarah Nanyondo, Abdallah Nasuru, Ben Kiwanuka Kunsa and Sally Kahumuza from Central Division.
Ronald Kasule, John Musedde, Moses Mubiru, Bernadet Alupo, and Edward Muwanga from Nakawa division.
These are expected to serve up to 2026 when the current political term ends.
According to "The Local Council Courts Act, 2006," the composition of a local council court in a town, division, or sub-county shall consist of five members appointed by the respective council, based on recommendations from the executive committee.
Importantly, the law mandates that at least two members of these courts should be women, in line with the Constitution's provisions.
Local council courts have been established as part of the broader decentralization of power in Uganda. They are vested with administrative, legislative, and judicial powers on behalf of the central government, and they operate at the village, parish, and sub-county levels.
These local council courts have various powers, including the ability to issue orders for reconciliation, declarations, compensation, restitution, costs, apologies, attachment and sale, and the imposition of fines, community service, or other penalties in cases of bye-law or ordinance infringements.
Furthermore, Chief Magistrates have supervisory powers over local council courts, ensuring that justice is administered efficiently and fairly at the grassroots level.