CITY LEADERS, EXPERTS DELIBERATE ON INTEGRATED URBAN DEVELOPMENT MASTERPLAN FOR GKMA
PUBLISHED — 18th, August 2023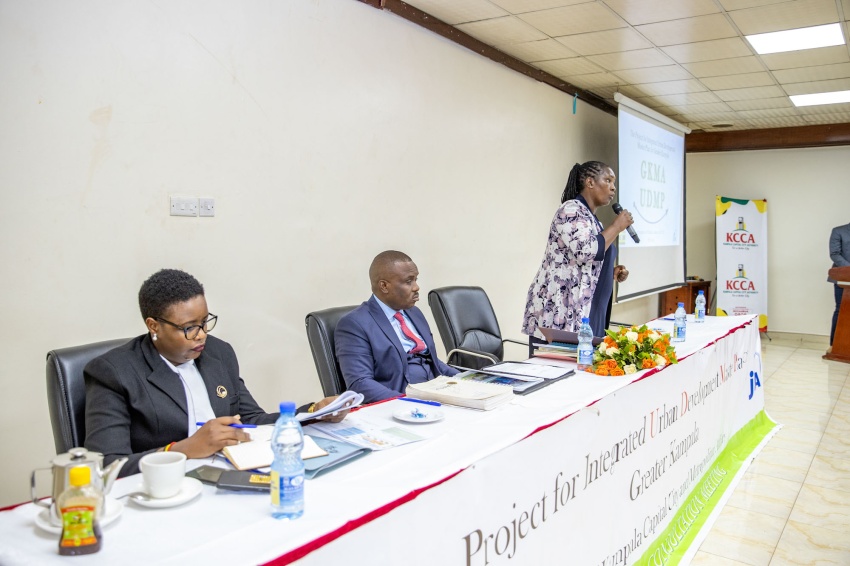 In a significant step towards transforming the urban landscape of the Greater Kampala Metropolitan Area (GKMA), Monica Edemachu, the undersecretary of the Ministry for Kampala Capital City and Metropolitan Affairs, revealed the progress being made on the Integrated Urban Development Masterplan during a stakeholder engagement meeting held at Hotel Africana on Friday.
The GKMA, encompassing Kampala City, Wakiso, Mpigi and Mukono districts, has long been grappling with the challenges of rapid urbanization, population growth, traffic jam, congestion and infrastructural demands. Recognizing the urgency of addressing these issues, the ministry, in collaboration with the Japan International Cooperation Agency (JICA), has embarked on a four-year journey to develop a comprehensive masterplan.
Edemachu expressed her satisfaction with the work accomplished by the JICA team thus far, highlighting a pivotal visit by a select group of Ugandan technical experts to benchmark successful urban development strategies from various Japanese cities.
"Once we plan together, implementation will be easy," Edemachu stated, emphasizing the importance of collaboration.
The heart of the masterplan lies in acknowledging the critical role of stakeholders in the GMKA.
"Put the beneficiaries of this project at the center. If we don't put people at the center, we will fail to implement the plan and it will not be useful," Edemachu stressed. She further appealed to leaders to set aside divisive differences and concentrate on the common goal of transforming and developing the metropolitan area.
The event drew political and technical leaders from Kampala, including Division Mayors, Town Clerks and directors, all eager to contribute to the development of the GKMA.
Kampala City Lord Mayor Erias Lukwago reflected on the organic growth of Kampala, hailing the plan as a necessary departure from the unstructured past.
"We have the best natural environment but a poorly built environment. Every corner of the country must be planned and this requires broader planning," Lukwago said.
The masterplan aims to address various challenges, including land use changes that have transformed farmlands, forests and wetlands into residential areas.
Hideyuki Sasaki, JICA Expert Team Lead revealed that plan also focuses on developing of Lake Victoria's lakefront areas, ensuring public access and restoring the shores and beaches to the community.
"Don't hinder access to the public; it shouldn't be monopolized by private individuals," Sasaki emphasized, advocating for changes in land use policies.
Traffic congestion, another pressing issue in the GKMA, has not been overlooked. The masterplan seeks to alleviate the traffic woes that could worsen without proper planning.
By reviewing and building upon the existing Kampala Physical Development Plan, the project intends to streamline transportation networks and enhance urban connectivity.
As the engagement concluded, attendees expressed their optimism for the future of the metropolitan area.
With a commitment to collaborative planning, community involvement and sustainable development, the Integrated Urban Development Masterplan aims to pave the way for a prosperous and well-structured Greater Kampala Metropolitan Area by 2050.​