KAMPALA LORD MAYOR, KHARTOUM STATE GOVERNOR DISCUSS BILATERAL RELATIONS
PUBLISHED — 10th, March 2023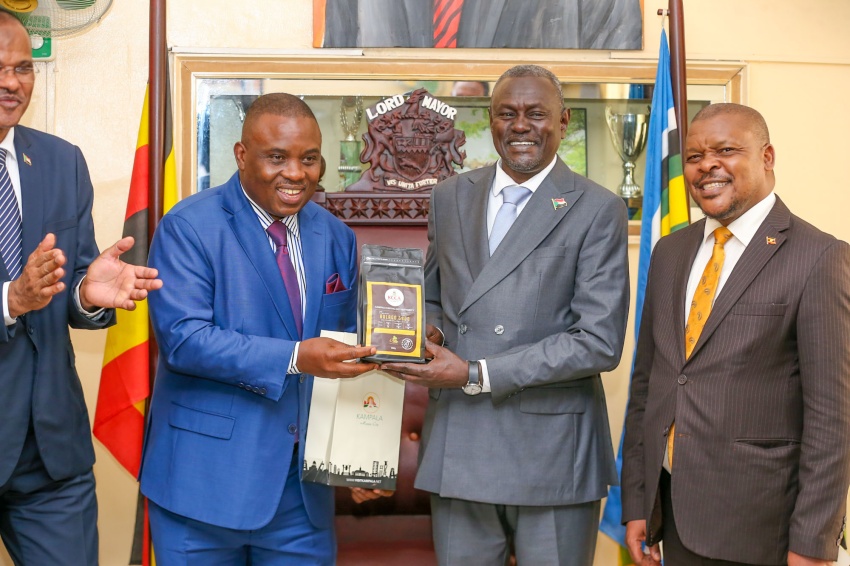 The Lord Mayor of Kampala His Worship Erias Lukwago and the visiting governor of Khartoum State in Sudan, Ahmed Osman Mohamed have discussed ways to boost bilateral relations.
Both parties affirmed the importance of strengthening the cooperation between Uganda and Sudan in different sectors of trade, industry and culture.
Ahmed who was leading a 10-man delegation from Khartoum met the Lord Mayor and his Executive Committee members on Thursday March 2023 at the Mayor's Parlor in Kampala.
The two leaders discussed potential areas of cooperation between Kampala and Khartoum such as trade, green energy, solid waste management as well as transport sectors.
"I'm looking forward to taking this relationship to another level so that we bond further. If possible, we can have a Memorandum of Understanding and have bilateral relationships in trade, tourism among others, so that our cities can benefit," Lukwago said.
He commended the Khartoum governor for choosing to visit Kampala and benchmark on the best practices.
"I'm really excited and I must salute you for making it here. I am glad we are able to meet as brothers and having this cordial relationship will help us create opportunities and share ideas on how to transform our cities and states," Lukwago said.
The Khartoum State Governor commended the Lord Mayor and his team for the hospitality and accepting to host them.
"Sudan and Uganda have good relations and I'm happy to be in Kampala. When we went to Jinja yesterday, we saw the source of the Nile. The Nile joins us and we are very excited about it," Ahmed said.
The governor extended invitation to the Lord Mayor to visit Khartoum and pick lessons from their best practices.
Uganda's ambassador to Sudan, Dr. Rashid Yahya Ssemuddu, also attended the meeting and promised that the issues discussed will be handled at a higher level.
As the delegation winded up its visit, they were hosted to a dinner at Serena Hotel where other dignitaries including the Minister for Kampala Capital City and Metropolitans Affairs Hajjat Minsa Kabanda and the Deputy Executive Director Eng. David Luyimbazi Ssali joined them.
Kabanda was glad to meet the 10 man delegation and this was revealed in her remarks.
"Am very happy to see my brothers here, we have been working and doing business with Sudan for quite a long time, we need to strengthen our bilateral relations for the better of our cities and countries" Kabanda said
Kabanda further noted that they needed a memorandum of understanding between the two parties to promote trade and tourism among others.
"There is a lot that we can do together as cities, my office is open to you all and I invite you for a visit before you go back home" Kabanda said.
The Deputy ED Eng. David Luyimbazi welcomed the delegation to Kampala, Luyimbazi thanked the Governor and his team for the initiative to visit Kampala to share best practice.
"This is a good initiative where our cities can come together to share best practices, promote trade and tourism among many other opportunities" Luyimbazi said
Ahmed Ibrahim Ahmed Awadelseed the Ambassador of Sudan accompanied the governor during the tour.
Others are Mohamed Ali Ahmed Sharif – Executive Director Khartoum State, Mukhtar Omer Sabir Mansour Director Roads and Bridges Authority, Montasir Mamoun Mustafa Hassanein Director Sewerage and Sanitation Authority, Yasir Babekir Almasaad Babekir Protocol Officer and Musab Ali Addelkarim Elmahdi Media Person.
Others are, Brig. Faisal Altayeb Ali Military Attaché, Elsadiq Abdalgadir Abdalla Mohamed Counselor and Rodwan Abdelrahman Mahamoud Makki Head Liaison.
The 10-man delegation of Sudan officials are in Kampala on a 3-day benchmarking visit. The team arrived in Uganda on March 7, and will be leaving on March 10.
On Wednesday, the delegation had a tour of the city; with visits at the Independence monument, followed by Gaddafi Mosque, the Kabaka's Palace, the Royal Mile and Bulange –Mengo.
After the tour, the team headed to the National Water and Sewerage Corporation (NWSC) waste treatment plant in Wankonko, Kampala.
The team later visited the Source of the Nile in Jinja.​