KCCA TAKES OVER KISEKA MARKET
PUBLISHED — 15th, November 2022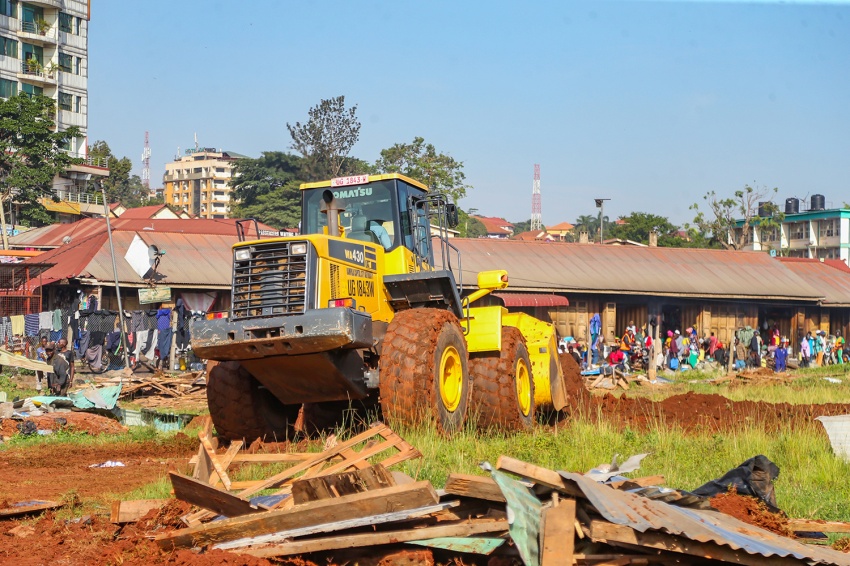 The Kampala Capital City Authority (KCCA) has taken over possession of Kiseka Market in fulfillment of the Presidential Directives on the management of markets in Kampala.
The directives among others requiring all government markets to be under KCCA were issued to the Minister for Kampala Capital City and Metropolitan Affairs Hajat Minsa Kabanda.
On Tuesday the KCCA executive Director Dorothy Kisaka got up at the crack of dawn and led her team to Kiseka market to ensure the repossession of the market goes on peacefully.
"We have come to takeover and grade this part of the land that is vacant so that our people who have no where to trade from can find a place to trade," Kisaka said amidst cheers from the vendors.
The peaceful exercise begun by bringing down a hoarding fence that had been constructed around the vacant land.
"As you know we did an operation and cleared the streets and most of those hawkers have nowhere to trade from. For us we want to grade this area and our taskforce will ensure that the right people come and they start trading here," she added.
Graders and other equipment to level the land were also on standby and by the time the ED left Kiseka market they had started preparing the place for occupancy by the vendors.
"We are going to put in place an environment that will enable people to start operating on this place as we plan to start constructing a permanent facility," Kisaka said
KCCA has put in place a taskforce to see the market issues in all the 16 government markets in Kampala to have a smooth implementation of the presidential directives. The taskforce will also guide on who will operate these markets.
Kiseka Market, like many others in Kampala, sits on leased land whose perpetual owner is Uganda Land Commission.
One part of the plot is developed already with the multi-storied building standing there. The other part remains vacant and undeveloped. It's that undeveloped portion whose lease had ran out prompting ULC to prepare re-entry.
In his letter President Museveni directed that no renewing the vendors' lease and ensure land including where there is a building since it was built with vendor's money.
The president urges that if the government market land is leased to the present vendors how about the future.
The President's directive also called for kicking of private tenderers or landlords to be kicked out of KCCA markets because they tend to be very insensitive and exploitative towards the poor vendors.
Museveni also directed that KCCA ensure vendors take responsibility of trading in this area based on one stall per vendor and pay minimal rent to the KCCA directly.
The idea of government markets is that of nursery schools in a business where beginners sell in it and when they grow in business, they graduate to rich areas of the town.