EXECUTIVE DIRECTOR'S SPEECH: LAUNCH OF WOMEN'S ECONOMIC EMPOWERMENT AND CARE PROGRAM
PUBLISHED — 8th, September 2020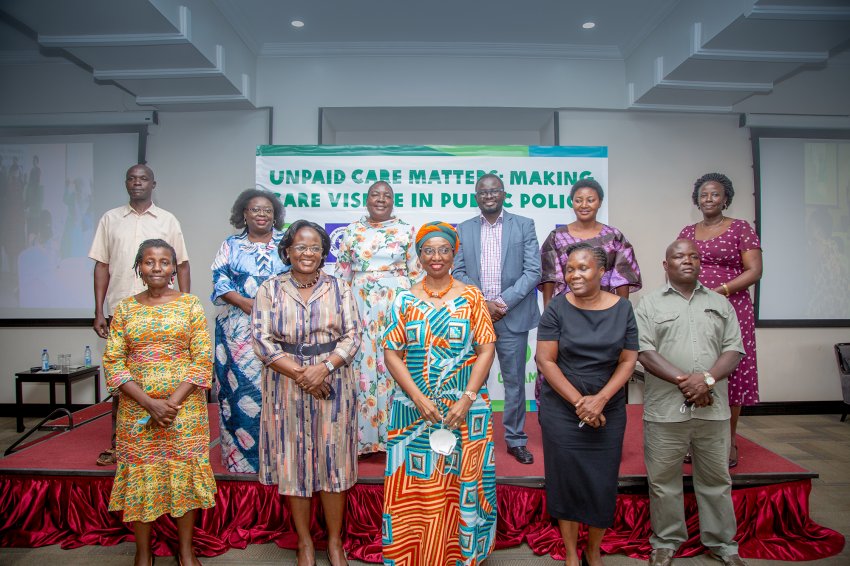 'How KCCA has positioned itself to address Unpaid Care Work through its Operations'
I am humbled to be a part of this Launch that is geared towards recognizing unpaid care and domestic work which has indeed not been put into perspective and certainly not quantified by a majority of African societies and particularly in Uganda. Even in urban settings like Kampala women and girls are indeed the most affected yet great potential is locked up in the domestic and unpaid care role they are expected to play. Unfortunately, the full worth of unpaid care remains invisible and unquantified in Uganda but in the world, yet studies have placed it at contributing USD 10.8 trillion to the global GDP.
The government of Uganda is cognizant of the challenge at hand and at KCCA we are implementing a number of programs towards unlocking such potential that is locked up in homes and places of care. Through our Directorate of Gender, Community Services and Production we are implementing the Community Driven Development (CDD) Program and the Uganda Women Entrepreneurship Program (UWEP) which provide grants and affordable loans to women boosting their capacity to engage in business enterprises within the confines of their homes or nearby locations.
In the FY 20/21 UGX 1.7bn is to be disbursed to 296 groups in the City. The beneficiaries engage in Poultry farming, horticulture, cottage industry and modest business enterprises. KCCA is also implementing the NAADS program that offers agricultural inputs to women.
Together with the Ministry of Gender and Social Development we are conducting a Functional Adult Literacy Program (FAL) which was designed to empower illiterate adults to participate effectively in community engagements. In the FY 20/21, we target to have 9 FAL classes in each of the 5 divisions with an average of at least 20 learners hence reaching out to 900 individuals.
These beneficiaries are largely women that are did not have the opportunity to go to school and are predominantly providing domestic care.
However, the demands of unpaid care and domestic work continue to emerge and create yokes for these women as they attempt to make the most of these programs.
Childcare is a prominent feature of unpaid care; parents and guardians can only concentrate at work when assured of the safety and care of their children. The options for safe alternative care for children are currently limited to private child care facilities whose access excludes most communities. Many parents especially mothers in both formal and informal work sectors are forced to go to work with babies and young children, yet there are no appropriate facilities for this.
At KCCA, with the recent rehabilitation of markets, Child Care Spaces have been established in Kasubi and Wandegeya markets, where parents drop off their children at a modest cost. There is high demand for child care services and it ought to be replicated in other KCCA markets.
We have also picked interest in making provisions for breast feeding mothers in workplaces in the KCCA jurisdiction where they can nurse and change their babies in comfortable and hygienic environments. This is something we intend to institutionalize for the benefit of KCCA staff, and hopefully be a model for others.
Investment in government-led Early Childhood Development (ECD) infrastructure and services will ease the care burden on parents and communities. This has been done successfully in some jurisdictions in Kenya, where kindergartens are part of the Universal Primary Education system making child care more accessible and affordable.
Schools offer safe environments for children. As an institution charged with policy formulation, regulation, resource generation, infrastructural development, KCCA sees opportunities for collaborating with the Ministry of Education and Sports, the MGLSD and civil society actors to make this happen.
Unpaid care extends further to the health care system. Our Mothers, Wives, Sisters and Daughters are at the heart of caring for the sick; suspending businesses, taking leave from work or even leaving gainful employment to look after patients and the vulnarable. This limits their potential to contribute to family incomes and for personal development in other areas of public life.
KCCA has seven health facilities offering free health servicesn across the five divisions. It however disheartens me that most of the care takers for patients in these health are women; as a country we are still grappling with the provision of home-based nursing care which would relieve the pressure on home care for patients.
However, KCCA's vision for the next 5 years is to scale up the capacity of its facilities including staffing levels to ensure that we have more nursing care in our facilities to relaese care takers to more productive work.
KCCA is keen to ensure disease control in the City. We are committed to sustainable waste management and sanitation interventions especially among the urban poor. Under our Weyonje Project that is funded by the Bill and Melinda Gates Foundation, we have interventions in Faecal Sludge Management by emptying usings Public Private Partnerships (PPPs) and construction of community toilets.
We have intensified free garbage collection amongst our urban poor communities and ensuring that we construct drainages to avoid stagnation which can be a source of disease.
All these are in a bid to minimize the risk of disease infections amongst city dwellers. When communities remain healthy and don't fall sick, domestic care givers have more time and resources to devote to more productive assignments.
KCCA is in the final stages of drafting the five year Kampala Integrated Development Strategy 2020/2021 – 2024/2025 which has a holistic approach to make Kampala a vibrant and attractive city. This project is therefore timely as it provides opportunity for the additional gendering of this strategy to strengthen responsiveness to unpaid care issues. The Strategy will lay a foundation for prioritising Unpaid Care issues particularly through policy solutions on reduction and redistribution.
Through the Directorate of Gender, Community Services and Production, the Authority has a role to mainstream gender issues across policy, plans and budgets across the operations of all Directorates. It has a role to play in ensuring that the implementation of on-going and future project address the gender needs of men and women alike.
All the above plans and opportunities for KCCA to address the issue of unpaid care also require a conducive environment for them to flourish in. This calls into question the role of the communities of the City. Provision of services and infrastructure must be matched by a socially-aware community that is ready to utilize them, and demand for better.
I congratulate UWONET and Oxfam in Uganda for the great strides made so far under the previous phases. I pledge KCCA's support towards the achievement of the project's objectives which will have a spill-over effect on the City.
I thank you.
For a better City, For God and my country
Dorothy Kisaka
EXECUTIVE DIRECTOR, KCCA.