KCCA AND BLOOMBERG PHILANTHROPIES INITIATIVE FOR GLOBAL ROAD SAFETY JOIN HANDS TO REALISE ROAD SAFETY IN KAMPALA
PUBLISHED — 23rd, July 2020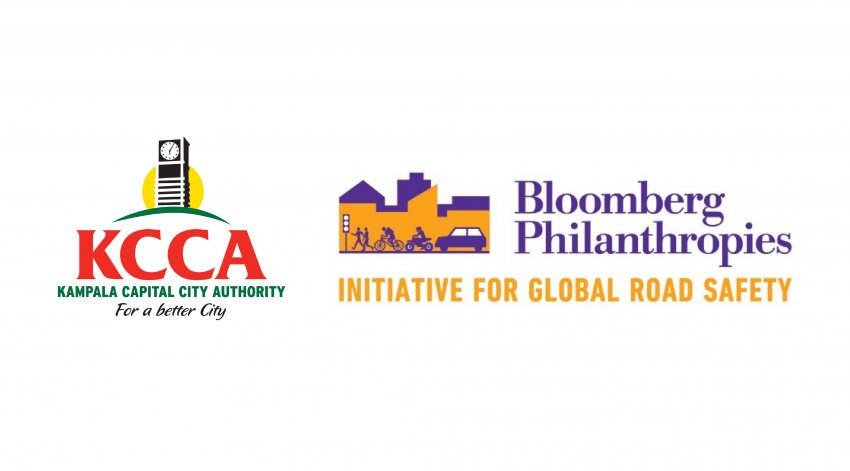 Kampala, Uganda - Kampala Capital City Authority (KCCA) and the Bloomberg Philanthropies Initiative for Global Road Safety (BIGRS) held a kick-off meeting on July 15, 2020 marking the start of a six-year partnership to prevent traffic crashes and deaths in Kampala. This initiative will place a special focus on speeding – one of the leading causes of traffic crashes around the world. Road traffic injuries are the 8th leading cause of death worldwide and the leading cause of death for people aged 5-29.
With support from the Bloomberg Philanthropies Initiative for Global Road Safety (BIGRS), KCCA joins a global network of cities and national governments with access to global experts on road safety. The initiative will provide support in the areas of data and surveillance, safer streets and safer mobility, police enforcement and Media and Communication.
With both technical and financial support from the International partners, KCCA will implement data-driven, proven solutions to save lives on the roads.
These partners include: The World Health Organization, Vital Strategies, Global Road Safety Partnership (GRSP), World Resource Institute (WRI), Johns Hopkins University International Injury Research and Country Level Partners (GHAI/WB/WHO).
"We are delighted to welcome Kampala as one of 30 cities that will participate in the Bloomberg Philanthropies Initiative for Global Road Safety, a network committed to reducing the deaths and injuries from road traffic crashes," said Kelly Larson of Bloomberg Philanthropies. "Every year more than 1.35 million people are killed on the world's roads.
By implementing proven evidence-based, data-driven interventions, these deaths are nearly entirely preventable. We applaud the Government of Uganda, His worship the Lord Mayor and the KCCA technical team for taking the steps needed to save lives."
"We are putting the issue of road safety at the forefront and appreciate this intervention. We welcome all the support from Bloomberg Philanthropies and shall be a very active partner in this." – Lord Mayor Erias Lukwago Ssalongo.
This third phase of BIGRS, from 2020-2025, includes the participation of cities in Argentina, Brazil, Colombia, Ecuador, Ethiopia, India, Uganda, and Vietnam, among others. Currently enrolled cities include Accra and Kumasi (Ghana), Addis Ababa (Ethiopia), Bogota (Colombia), Guadalajara (Mexico), Hanoi and Ho Chi Minh City (Vietnam), Kampala (Uganda), Mumbai, Bengaluru and New Delhi (India), in addition to São Paulo, Salvador and Recife (Brazil).
Since 2007, Bloomberg Philanthropies' investment in road safety has saved nearly 312,000 lives and prevented up to 11.5 million injuries. Building on the success of the previous 12 years, Bloomberg Philanthropies announced in February, during the 3rd Global Ministerial Conference on Road Safety, organized by the World Health Organization (WHO) and held in Stockholm, Sweden, a doubling of its support for global road safety, securing another USD $ 240 million between 2020 and 2025 to save another 600,000 lives and prevent up to 22 million injuries in low- and middle-income countries around the world.
To prevent road crash injuries and fatalities, BIGRS is collaborating with local stakeholders to save lives through proven interventions that focus on four major risk factors (speeding, drink driving, helmet wearing and the use of seat-belts and child restraints) with speeding as the focal risk factor across all BIGRS locations around the world.
About the Bloomberg Philanthropies Initiative for Global Road Safety:
The Bloomberg Philanthropies Initiative for Global Road Safety (BIGRS) works with the world's leading road safety organizations to implement road safety activities and coordinate with in-country governmental and non-governmental stakeholders. BIGRS places an emphasis on achieving outcomes, and on using high-quality monitoring and evaluation mechanisms to continually assess progress. For more information, visit:
https://www.bloomberg.org/program/public-health/road-safety/
About Bloomberg Philanthropies
The Bloomberg Foundation works in 480 cities in more than 120 countries around the world to ensure better and longer lives for as many people as possible. The organization focuses on five main areas for creating lasting change: Arts, Education, Environment, Government Innovation and Public Health. The Bloomberg Foundation covers all of Michael R. Bloomberg's charitable activities, including his foundation and personal donations. In 2018, Bloomberg Philanthropies distributed $ 767 million. For more information, visit bloomberg.org or follow us on Facebook, Instagram, YouTube and Twitter.
For any queries, please contact us on 0800990000 or info@kcca.go.ug