KCCA gives Kikumikikumi a new face
PUBLISHED — 18th, March 2019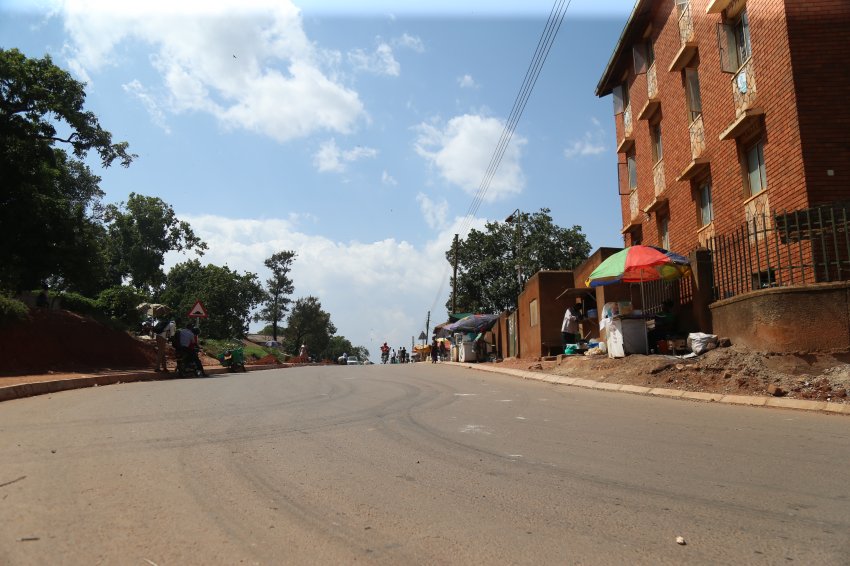 KCCA gives Kikumikikumi a new face
While a little boy in my Primary School many years ago, we would look forward to the return of our elder brother who was by then, pursuing his Bachelor's Degree at Makerere University, Kampala, Uganda. He would tell us many stories ranging from the time they arrived at the Ivory Tower as beginners (Freshers as most people referred to them), to kawu (days of brokenness) and a popular place called Kikumikikumi where they would have all 'tribes' of food at very affordable rates.
I picked interest in the latter, Kikumikikumi, and was keen to find out more about this place which was very popular in the mind of my brother. He explained that this was an area where University Students would go to dine and experience balance diet and each type of food on a plate would go for kikukumi Ugx100 and hence the name, so popular among Makerere University Community . This stuck on my mind and when I joined University years later, I was extremely eager to visit Kikumikikumi.
It wasn't long after I joined the University for my undergraduate course in the early 2000s. I arranged with other students during lunch break and we visited the 'famous' Kikumi-kikumi for a meal. Expectations were very high especially on the meal and I was never disappointed because for Ugx800, I had a decent meal and left a satisfied man. This later became my routine as a regular because I was running on a modest budget.
The other very visible attribute about Kikumikikumi (the area) which I vividly remember, are the makeshift shanty structures/ sheds where we used to sit and enjoy our meals. The narrow dusty road which often produced some particles blowing onto our food is one other memorable part of our university life.
If you hold and share the same memories as myself, you need to revisit the place. Kikumikikumi is fast turning into a different place for the better! The shanty makeshift structures are fast disappearing while the once dusty road is no more.
I later discovered that the road connecting this popular area (Kikumikikumi) had a name – Muganzi Awongererwa.
Muganzi Awongererwa, a 1.6 km stretch (costing about Ugx 4.8b) is part of the key infrastructure developments being undertaken by Kampala Capital City Authority to improve mobility but also other key improvements defining the transforming Kampala City.
This is one of those signature projects that are defining the transformation agenda of Kampala City which goes beyond infrastructure but also the social economic empowerment of the inhabitants.
Recently, KCCA and Makerere University under a critical partnership built a network of many other roads.
Today, Uganda's leading University boasts of a robust road network in and around it, buildings and other structures.
Most of the new infrastructure is a result of a negotiated in-kind compensation between KCCA and Makerere University Management.
The University consented to offer some of its land for the upgrade and expansion of Makerere Hill Road, in exchange of new infrastructure.
The works were implemented under KCCA's Kampala Institutional and Infrastructure Development Project with funding from the Government of Uganda and the World Bank.
The Installed Infrastructure Includes;
Nine (9) roads (3.5kilometers long) were reconstructed with inbuilt drainage and large car parks. The reconstructed roads are around University Hall, Mary Stuart Hall, Lumumba Hall, Mitchel Hall, Livingstone Hall, and the Institute of Technology.
The University now boasts of paved walkways and street lighting aimed at securing students on campus.
A newly reconstructed and beautified Main Gate that is serviced by several lanes and regulated by traffic lights to improve University access.
Pedestrian crossings regulated by traffic lights to keep students safe from speeding cars and motorbikes.
A perimeter wall to enhance safety of the university. The wall runs from Junju Road to Sir Apollo Kaggwa Junction.
A three (3) storied modern administrative and classroom block at Makerere College School.
Newly erected retaining walls to safeguard the Makerere Law School and Makerere College School from noise and dust from the nearby road.
Renovation of Makerere Hospital building and parking thereby improving the aesthetics around the hospital.
Financing Arrangement
• The overall cost incurred by KCCA for constructing all new infrastructure is UGX6.9Billion - 9 roads, drains, walkways and street lights; 3-storied administration and classroom building for Makerere College School; renovation of the hospital; and the construction of the Main gate.
• The value of land given to KCCA by MUK that facilitated the in-kind compensation was valued at UGX6.2Billion while the developments were worth UGX 0.7 Billion.
• KCCA purchased additional land from MUK estimated at UGX1Billion; an amount that financed reconstruction of the various parking bays and a tennis court within the University.
• In addition, a perimeter wall has been constructed by KCCA from Junju road to Sir Apollo Kaggwa junction at a cost of UGX1.2Billion and as a measure to enhance the University's security.
Benefits of the New Infrastructure
• Enhance aesthetics around the University, the Law School and Makerere College School leading to a conducive environment for academic excellence.
• Enhanced safety and security of students – perimeter wall, well-lit streets, walkways, and push buttons at traffic junctions.
• Easy access of the University with regulated traffic flow; a beautified Main Gate containing all historical artifacts such as the emblem; plus professional landscaping, trees and vegetation.
• Reduced accidents with a Pedestrian crossing installed at College School.
• Serene environment with noise and dust barriers at the Law School and College School.
Just like Kikumi-Kikumi, many places in the City continue to change as KCCA presses on with infrastructure developments and improved neighborhood planning which will see the reorganization of the city and economic vitality.
This is captured is captured by the World Bank in their Report 'Africa's Cities, Opening Doors to the World'. "There are also broader citywide economic benefits of transportation improvements. In recent research on road improvements in Kampala. The direct beneficiaries of these improvements are workers using motorized transport, whose transportation costs decrease. Other residents also benefit, because lower transportation prices reduce the cost of living, at least in the short term, because over time, people relocate: The better-off locate farther from their jobs as commuting times decrease, reducing pressure on land close to the city center and allowing poorer people to settle close to their jobs,"
Head Public & Corporate Affairs