113 ARCADES REOPEN AS LOCK DOWN EASES
PUBLISHED — 22nd, July 2020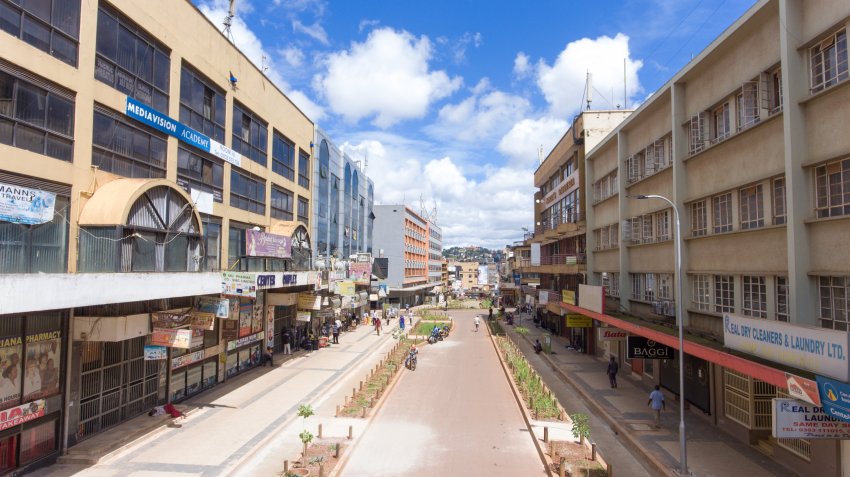 In an effort by Government to ease the lockdown measures to allow resumption of normal business operations within Kampala City, a Public Health Inspectorate team was constituted to carry out the inspection of over 200 arcades within the City to assess the level of compliance to the Standard Operating Procedures (SOPs) approved by the Ministry of Health in consultation with the key stakeholders.
In the Presidential address of 21st July, 2020 to the Nation on COVID-19, His Excellency directed that 113 of the 171 inspected arcades be opened for business having met the COVID-19 SOPs while the rest (58) are yet to fulfill the SOPs.
The arcades that have complied with the SOPs and permitted to reopen have been issued with a Certificate of Suitability while those under the improvement category shall be expeditiously re-inspected before reopening. Arcades that fail to strictly sustain the SOPs shall be forced to close in the process to curb the spread of COVID-19.
As the Country eases the COVID-19 restrictions, KCCA urges the Public to maintain safety guidelines that include social distancing and enhanced hygiene practices.
Below are the arcades that were compliant to the set SOPs and allowed to reopen.
NO.

ARCADE

LOCATION

BEN KIWANUKA STREET

1

Mukwano arcade

Ben kiwanuka

2

Modern shoplex

Ben Kiwanuka

3

Lutunga arcade

Ben kiwanuka

4

Grand corner plaza

Ben Kiwanuka

5

Arua park plaza

Ben Kiwanuka

6

Arua park Annex

Ben kiwanuka

7

Kasiwukira

Ben kiwanuka

8

Magoba shopping

Ben Kiwanuka street

9

Vinco Arcade

Ben Kiwanuka Plot 60

10

Haider

Ben Kiwanuka

11

Nagatule

Ben Kiwanuka

12

Park enkadde mall

Ben kiwanuka street

13

Giant

Ben kiwanuka

14

Nalubwama Arcade

Ben Kiwanuka

15

Superior Complex

Ben Kiwanuka

16

Annet Plaza

Ben Kiwanuka street

BOMBO ROAD

1

Silva arcade

Bombo road

CHANNEL STREET

1

Mega plaza

Channel street

2

Sekaziga House

Channel street

DASTUR STREET

1

Teddy's plaza

Dastur street

KAFUMBE MUKASA

1

Kheim (2 in 1)

Kafumbe Mukasa Road

ENTEBBE ROAD

1

Kamukamu Plaza

Plot 6, Entebbe road

KAMPALA ROAD

1

E-M plaza

Kampala round

2

Prism

Kampala Road

3

E- Tower

Kampala road

4

Kampala Plaza

Kampala Road

KIKUUBO LANE

1

Nabugabo Business Centre

Kikuubo Lane

2

Bulamu Bwebugagga

Kikuubo Lane Plot 12

3

Kabala Shopping Arcade

Kikuubo Street Plot 13

KYAGWE ROAD

1

Ravens Plaza

Kyaggwe road plot 56A

LUWUM STREET

1

Eagle plaza

Luwum street

2

Royal Plaza

Luwum street

3

Hanifa Towers

Luwum street

4

Yamaha centre

Luwum street

5

Zai plaza

Luwum street

6

Jjemba Plaza

Luwum street

7

The Arcade

Luwum street

8

Avema Shopping Centre

Luwum Street Plot 30

9

JBK

Luwum street

10

Universal house

Luwum

11

Maria's galleria

Luwum

12

Park view shopping centre

Luwum street

13

DTL

14

Jaffari Kibirige

07, Luwum

MACKAY

1

New taxi park arcade

Mackay road

MARKET STREET

1

Market plaza

Market street

2

Plot 15 A & B

Market Street

3

The Electrical plaza

Market street plot 9/11

4

City Complex

Market Street

5

Royal Complex

Market street

6

Carlton Centre

Kiyembe Lane

7

Nzamuzam

04

MENGO HILL ROAD

1

Grand plaza

Mengo hill road

MPABANA

1

Spare world

Mpabaana road

2

Trinity towers

Mpabaana road

3

God's Plan plaza

Mpabaana

4

Kiseka Auto centre

Mpabaana

5

Lohana arcade

70,72,74,76

NABUGABO

1

Apple plaza

Nabugabo

2

Gagawala

Nabugabo

3

Shamba complex

Nabugabo

4

Shauriyako original

Nabugabo

5

Dembe arcade

Nabugabo

6

Mid-city

Nabugabo road

7

Capital Centre

Nabugabo Street Plot 148

8

Nambusi Arcade

Nabugabo Street Plot 18

9

Angels Arcade

Nabugabo Street Plot 41/42

10

Premier Arcade

Nabugabo

11

Unifam

Nabugabo

NAKIVUBO ROAD

1

Sky shopping arcade

Nakivubo

2

Trusted Arcade

Nakivubo

3

Nakasero complex

Nakivubo

4

BBC building

Nakivubo

5

Premier arcade

Nakivubo 48B

6

Sembatya Arcade

Nakivubo Street Plot 14

7

Fami Plaza

Nakivubo road

8

Victor

Nakivubo road

9

Nana

Nakivubo road

NAKIVUBO MEWS

1

Zaina textiles

Nakivubo mews

2

Chicago Plaza

Nakivubo mews

3

Byamugisha

Nakivubo mews

4

Nakasule

Nakivubo mews

5

Zibula Atudde

Nakivubo mews

NAMIREMBE ROAD

1

KK trust

Namirembe road

2

Ham shopping ground

Namirembe, kafumbe Mukasa roads

NASSER ROAD

1

Zebra House

Nasser road

2

Bukenddeko Complex

Nasser road , 17A

3

Modern sarah centre

Nasser road plot 21/23

4

Sayuni arcade

Nasser road

5

Printers miracle centre

Nasser road

6

Muzz printing

Nasser

7

Miracle arcade

Nasser road plot 19

NKRUMAH ROAD

1

Sal Building

71, Nkrumah road

2

Light arcade

Nkrumah road

3

Moon light arcade

Nkrumah road

4

Pan world

Nkrumah

RASHID KHAMIS ROAD

1

Namayiba building

Rashid Khamis

2

HBT Complex

Rashid Khamis road

3

Sedona Complex

Rashid Khamis

RUSSEL ROAD

1

Namanda plaza

Plot 1, Russel road

WILLIAM STREET

1

Gadith William

William Street Plot 10 /12

2

Galiraya

William

3

Discovery plaza

William street

4

Kalungi plaza

William street

5

Trade Link

William Street Plot 25

6

Kirumira towers

14, William street

7

Kisa Kya Maria

William Plot 13/15

8

God's Grace

William Street

9

Rene Plaza

20, William street

10

Muzinge house

54-56, William street

11

Get in House

03, street

12

Bamako House

60, William street

WILSON ROAD

1

Prime complex

Wilson road
Follow Speed updates via our Social Media @KCCAUG